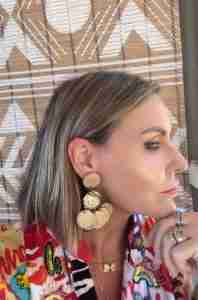 ---
Citizenship
Greek and British / Greek of Alexandria
Education
History
Ancient Greek and Roman History – Byzantine Greek – Modern Greek
Archaeology
Prehistoric (Minoan, Mycenaean) – Classical – Byzantine
Studies of Comparative Religions
Greek – Arab – Venetian – Ottoman
History of Art
Ancient Greek Theatre – Modern Greek Literature – Greek Mythology
Social Anthropology
Psychology – Traditional Arts and Crafts – Music and Dance – Local Flora and Fauna – Local Geology
Greek History and Culture
(A letter from Aris Tsantiropoulos | Assistant Professor of Social Anthropology in University of Crete)
Distinctive award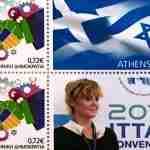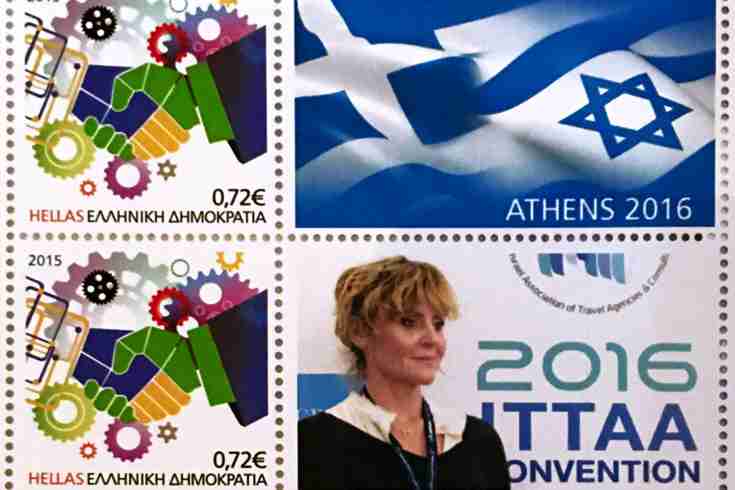 I am greatly honoured to have received recognition from the Greek State for my influential contribution to the Fed Hatta conference 2016 by issuing a commemorative stamp with my portrait on it.
Work
Year-round expert guide for groups and individuals 1989 to present
2023
August, 4-20: Curator of the art exhibition Linear T. Under the sponsorship of the Prefecture of Crete and municipality of Réthymno.
July, 11-16: Retreat Leader at the event. Ψυχ-αγωγία | Conduct of the soul. Mind, Soul and Emotions in Greek Tragedy: Ancient Wisdom for Today with Professor Edith Hall, Natalie Haynes and Ioanna Kalypso Glypti.
Inquiry into how dramas originating from democratic Athens showcase resilience among individuals battling timeless emotional predicaments will be conducted by Professor Edith Hall, renowned author of Greek Tragedy: Suffering under the Sun (2010), and Natalie Haynes, acclaimed scribe and author.
Meanwhile, Ioanna Kalypso Glypti, an expert in the matter, cognitive consultant and Gestalt therapist, will grant us insight into the multifaceted and relevant backstories surrounding the theaters and museums of Corinth and Argolis, which boasts having the oldest monuments globally. A tour of the area will culminate with a performance to be staged at the awe-inspiring ancient amphitheater of Epidauros.
Read here the article by Jack Rear in Country & Town House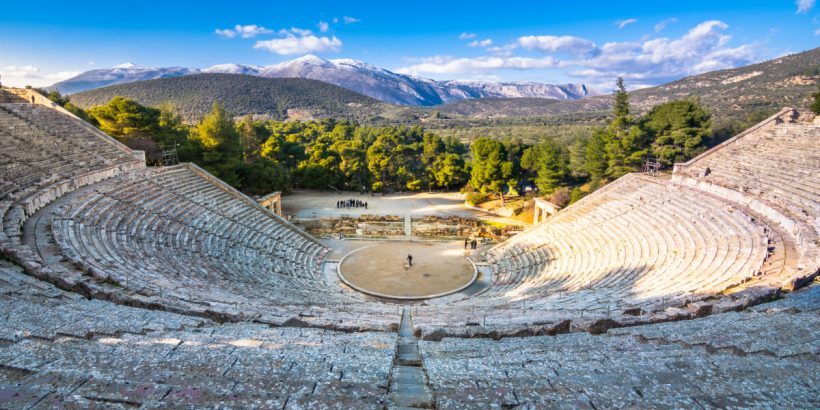 2022
October: Retreat Leader at the event. The Multifaceted Female in Ancient Greece with Natalie Haynes, Doniert Evely and Ioanna Kalypso Glypti
Article in Marie Claire: In a magical retreat in Crete we dived into the history, culture and transformations of women over the centuries
Natalie Haynes, author of Pandora's Jar: Women in the Greek Myth, will have the chance to read and discuss with us her book about women in Greek myths and their remarkable role at the heart of these ancient tales. Ioanna Kalypso Glypti will showcase these facts & stories through our visits to the extraordinary Knossos Palace, the Heraklion Museum and other archeological sites.
July: The Red Sea Project conference series is an international forum for interdisciplinary research focused on the Red Sea as a diachronic geohistorical unit. Since 2002, Red Sea Project conferences have been hosted by institutions of higher education and research across Europe and once in the Middle East, with support from several organizations, including the Foundation for the Study of Arabia, the British Museum, the European Research Council and participating universities and cultural heritage authorities. Conducted a guided tour to Spinalonga.
May: the high Judges of the European Union, the high Judge of the United Nations with the Department of Justice of Greece. AEAJ
2021
Speakers:
Dora Mpakoyanni previous Minister of Foreign Affairs of Greece.
USA Ambassador Payet
Israel Ambassador
Minister of Energy and environment of Greece and Egypt.
January: A guest speaker presenting the Country of Greece and its history for MEJDI Tours. A virtual cultural-historical tour of Greece from Ancient times until Today and the evolution of Democracy.
2020
February official interpreter of the Greek government and Prime-mister Mitsotakis in Crete.
Opinion writer for lesoleilfoundation.com
Initiator and co-founder of Minoan steps
2019
Associate advisor of Elli Lyraraki in the Paris Fashion Show
2017
June: History of Technology Volume 33 – Google Books
2016
Interpreter of the Seminar of Simone Caporeli held in Heraklion Crete.
Wrote and delivered the opening speech of the Fed Hatta conference held in Athens for the ITTAA (Greek Tour Agency Association, Minister of Tourism, General secretary of Tourism of Greece, Aegean  Airlines, Ambassador of Israel and Tourist Organization of Israel)

To commemorate this historic moment and memorable opening speech with the subsequent successful conduct of the event, I was honoured by the Greek State by issuing a commemorative stamp with my portrait on it.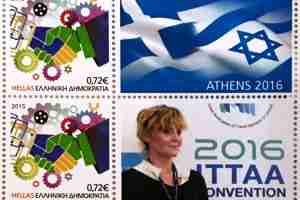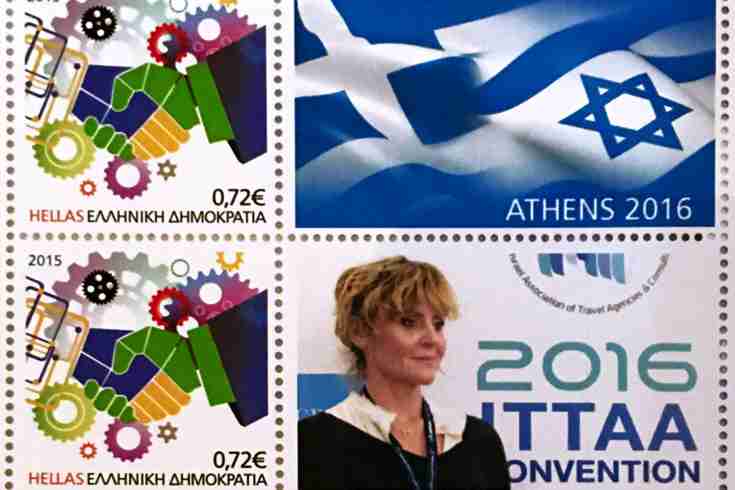 2015
Becomes National trainer of FEG
Certified train the trainer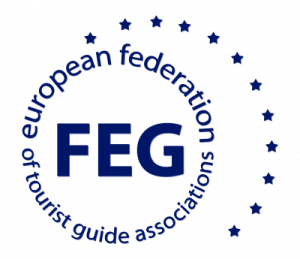 2014
Working with 1618 travel com. Private tours and conferences
2013
Working as an interpreter for conferences and meetings held in Greece.
2010
Hellenic National Defense General Staff Public Relations Section Exercise Gordian Knot
2009
NATO Missile Firing Installation, annual visit, Hania Crete, Wingate University USA: visiting groups, Department of Economics: the University of Rethymnon, Department of Greek Language: the University of Rethymnon, Department of Ottoman History: Greek Language: the University of Rethymnon, School of Guides of Greece Corfu.
2008
Princeton University through the University of Rethymnon, Nikki Rose writer, gastronomy, wine, and Mediterranean cuisine specialist
2007
American School of Archaeology, Ministry of Finance -2nd International Conference of Gastronomy: host Gordon Ramsay.
2005 – 2006
Tui School & College of Guides of Greece from Athens, American School of Archaeology
2005
Andreas G. Papandreou Foundation Symi Symposium 2005. Participants included: EU High Representative Javier Solana EU Council, General Secretariat, Olli Rehn European Commission Belgium, Yannis Alexander, Member Balkans Team, Tom Bentley, Director Demos UK.
2005 – 1999
US State Department, US Embassy Athens (VIP groups), USS Enterprise (Aircraft Carrier) / three-day tours of archaeological sites (1-3 times per year).
2004
Associated Press Journalists 14th April, Hellenic Air Force, Ministry of Defense hosting NAMFI Missile Firing Installation, University of Freiburg Institute for Classical Archaeology University of Freiburg, Germany, Professor Clemens Schmiden, 14th – 16th July
2003
NATO Missile Firing Installation, annual visit, June/July. NATO-EU-NAMFI Air Defence Seminar 6th -10th October 2003 Hania.
2003 – 1998
University of Crete / Education of People of Greek Origin (W.I.I.S). EU Leonardo Program The Centre for Professional Development, Rethymnon on the EU Leonardo Program "Introduction to the Civilization of Crete" covering the months of November and December.
2002
Hellenic Cement Industry Association Conference 13-16 June. Conference of EU Defence Ministers:EU Foreign and Security Policy Representative, Javier Solana and NATO Secretary General George Robertson. Rethymnon and Crete Representative at the Ferie Tourism Exhibition Copenhagen. Organizing programs for ornithologists and botanists, arranging transportation, places to visit as well as accompanying guests on excursions.
1998
OTE International Conference Professor Kallitsas, Professor of Management and Communications, Representative of Greek Telecommunications at the OTE International Conference EU Eurotex held in Rethymnon. Interpreter for the Prefecture of Hania the EU and the Institute of Agricultural Mediterranean Research.
1997
Professor Campbell's bi-annual Archaeological tour of Greece and Crete
1996
Presentation and Introduction for Professor Jacob Dempsey of BrownUniversity NY re: his most recent book on Minoa.
1995
International Conference on Telecommunications Guide and Public Relations for Greek Telecommunications for the International Conference on Telecommunications. Guest of Honour Mr Balachrista.
1994
US Legal Groups which included the firm Fulbright and Jaworski,International Lawyers, Houston
2009 – Present
Working with Russian guests a new market. El Greco Company
2005 – 1995
Summer Seasons regularly employed by: Airtours, My Travel, (UK & Scandinavia), First Choice UK, Trend UK, Preferred Travel Services UK, Saga UK,
1999
Summer Season Thomson (TUI)
1998 – 1997
Thomson UK Back to back, weekly tours for guests with special interests. This entailed guiding archaeological sites, planning tours, organizing routes, timetables, transfers, and responsibility for the health and safety of the guests.
1994 – 1990
Summer Season Thomson UK
National trainer of the world federation of guides
Representative of Professional Guides Association
Member of Prefecture Committee for the Promotion of Rethymnon throughout the EU and the growing US market.
Subcommittees
Advertising and promotion (festivals, dance, drama, exhibitions)
Awareness programs for local residents, (press conferences sponsors, etc).
Travel
Places visited so far… 2023: India – Delhi, Agra, Jaipur, Puskhar, Udaipur 2022: France – Paris, The Netherlands – The Hague 2011:Africa, 2010: Turkey, 2009: Portugal, Morocco, Syria, Jordan, Lebanon, 2001: Czech Republic, Belgium, Spain, 2000: Denmark, 1998: Caribbean, 1997: USA, 1996: Russia, 1994: China, 1993: Germany, Austria, 1983: Italy.
Participating in:
Dolphin Training programs.
Setting up "AIDS Awareness Young Citizens Org.", together with UN in Africa and Bi-cultural children's program in Hania Crete and Botswana, Africa: Setting up Workshops in Crete and Publishing their work and Art.
Hobbies
Tai Chi, Reading, Music (Ethnic, Classical), Dance (Tango), Riding.