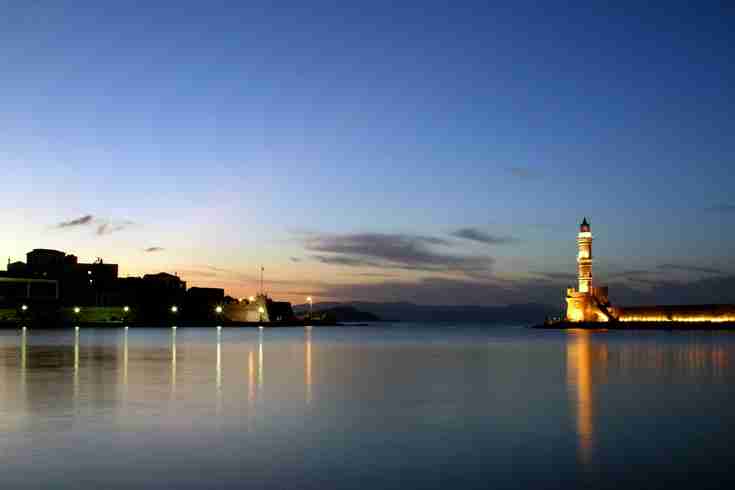 DAY ONE – FRIDAY
Breakfast served from 07:30
09:30 Departure from Hotel Porto Veneziano and by coach we set off for the outskirts of Hania area. By coach we see venetian fortifications, covered Market whilst making our way on to national road
10:00 Arrival at ancient Aptera Acropolis and see on foot historical site. Greco Roman, Christian and Ottoman Finds
11:20 Departure from Aptera site to 16th century monastery Agia Triada by coach
11:50 Arrival at monastery, sight-seeing and wine tasting also comfort stop
13:00 Departure from Agia Triada monastery for Kalathas beach at Akrotyri
13:20 Arrival at beach. Time to catch the sun have a swim, even light lunch with refreshments
15:30 Departure for hotel by coach on return quick stop at Prophet Ilias for panoramic view and picture of Hania
16:15 Arrival at hotel Porto Veneziano. Time to rest before evening walking tour of city of Hania
18:30 Meet at hotel lobby for our walk in the old town of Hania. Minoan Kydonia, Hellenistic, Roman walls, Byzantine walls the Christian, and Jewish population and of course the ghetto. The Venetian port and ship docks: and finally the Muslim Ottoman city
21:00 Arrival for dinner just as the sun sets on old port!
DAY TWO – SATURDAY
10:00 Departure from Porto Veneziano hotel for coach. We head west in the direction of Kolibari
10:40 Arrival at Vouves village where we see the oldest olive tree of Crete.
11:10 Departure from Vouves to Astrakos at Biolea
11:30 Arrival at village Astrakos at Biolea. Experience organic stone milled Olive oil process: Olive oil tasting and visit of the grounds
12:40 Departure from Biolea by coach for Polirynia via Kisamos
13:10 Arrival at Polirynia, one of the 100 cities mentioned by Homer concerning Crete. We walk through this ancient Homeric, Roman, Byzantine and Medieval city for approx 30 min
13:40 Return to the square of Polirynia and Odysseas/Ulysses for a light lunch and homemade local food
15:55 Departure from Polirynia to make our way back to our hotel
16:55 Reach hotel
19:30 Meet at lobby to depart for farewell dinner