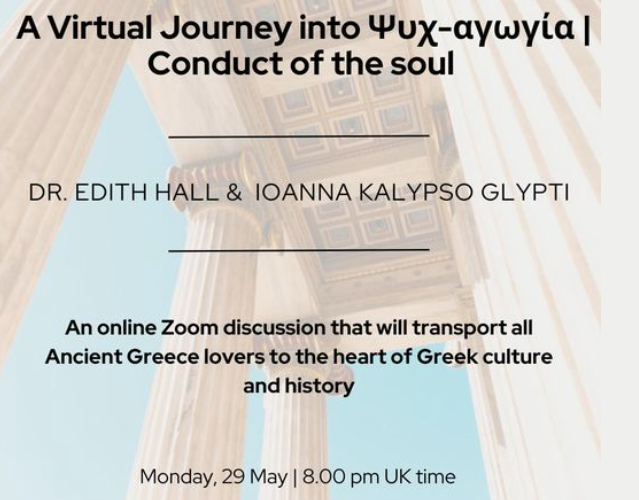 Zoom discussion with Dr. Edith Hall & Ioanna Kalypso Glypti. Get a preview of the extraordinary journey that awaits you at our upcoming retreat: "Ψυχ-αγωγία | Conduct of the Soul". Edith Hall will share her expertise and insights, providing a deep dive into Mind, Soul and Emotions in Greek Tragedy and Ioanna Kalypso Glypti will offer us a glimpse of the archaeological sites, rich culture and history of Greece.
As the highly anticipated Cultural Retreat "Ψυχ-αγωγία | Conduct of the Soul" featuring Professor Edith Hall, bestselling author and writer Natalie Haynes, and expert and guide Ioanna Kalypso Glypti draws near, we are delighted to extend a special invitation to you.
As a preview of the exceptional experience awaiting you, we invite you to a Zoom call on May 29th at 8.00 PM UK Time. During this call, Professor Edith Hall will share her expertise and insights, deepening your understanding of the retreat's themes. Additionally, Ioanna Kalypso Glypti, will join us to provide a glimpse of the archaeological sites we will visit and offer a preview of what we can expect during the retreat. This immersive experience will allow you to fully engage with the culture and history of Greece.
The retreat will feature interactive illustrated lectures, visits to theatre-related sites and museums across Corinth and the Argolis, and a private performance at the magnificent ancient theatre of Epidaurus. Participants will be led through some of the most searing tragedies, including Agamemnon, Medea, and Antigone, to reveal the profound ancient answers to dilemmas and tragic situations such as bereavement that we still face today.
Keep in mind that, for this meeting, it doesn't matter if you are joining the retreat or not; what truly matters is the shared admiration for Ancient Greek culture, which is why we believe that you will love this discussion!
To join the meeting, simply click on the link below or copy and paste it into your browser:
https://us05web.zoom.us/j/84544250468?pwd=OGwzUXQwT2lRRWtiWDl1SXJBSVRkdz09
Meeting Details:
Date: May 29th
Time: 8pm UK time
Meeting ID: 845 4425 0468
Password:  Bw42Gc
To fully prepare yourself and gain the most from this experience, Edith recommends reading the books "Aristotle's Way: How Ancient Wisdom can Change Your Life" and "Greek Tragedy: Suffering under the Sun"
See you there!
Travelgems
T: +30 210682 9222
M: +30 6984180021
Ethnikis Adistaseos 84B, 15231 Halandri
Athens, Greece
www.travelgems.com