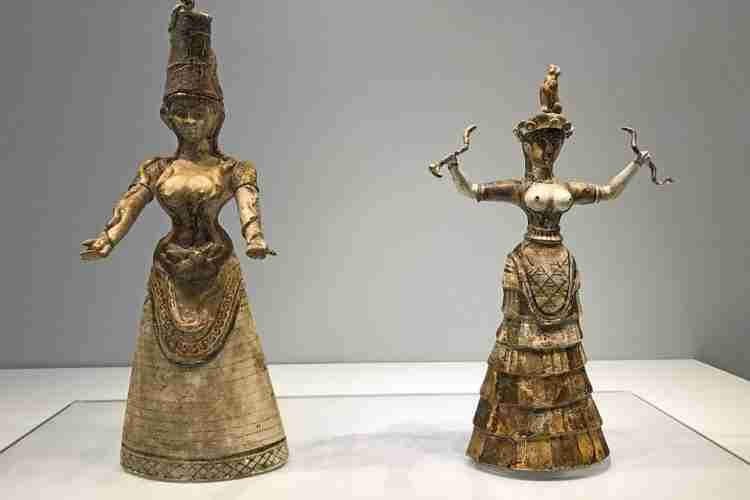 Seminars and Work shops on Minoan Crete.
Curious about the Minoans?
Intrigued by their art ?
Of this well explored but little understood people ?
Here is an opportunity to pursue that inquisitiveness – get to explore the aspect that excites you most.
Choose from the topics bellow!
Minoan Religion: The Way of the Goddess? 
3 days .. central Crete: The Countryside Sanctuaries   4-5 days .. Viannos, Lasithi, Central Crete
Lectures and field-trips
The Central Heartlands: 3 or 5 days
Sites
The Early Farming settlements
Lectures and field-trips
The Many-faceted East:  do from Siteia  3 or 5 days
Sites
A Mix of Peoples
Lectures and field-trips
The Little-known West:  do from Rethymno or Chania  3 or 5 days
Sites
Lectures and field-trips
The later B-A years:  3 days
The Arrival of the Mainlanders .. or Internal Development?
Collapse and Refuge?
Sites .. Knossos, Aghia Triadha, Chania  and Lin B
Lectures and field-trips
Trade, Transport and Ties:  3 days
Sites and Objects – in central and south Crete
Lectures and field-trips
Food : Farming, Fishing and Hunting:  3 days
Based on objects, results and visits to places .. JEM etc
Lectures and field-trips
Doniert Evely
Field Archaeologist and Self-Employed Researcher
With a degree in Classics from Edinburgh, and a Diploma in Archaeology from Oxford, I studied the Tools and Techniques behind Minoan Craftsmanship for my PhD thesis at Oxford. Thereafter I have worked free-lance all my life, with a spell of 8-years (within 2003-2012) when I curated the holdings the British School at Athens has inherited at Knossos from Evans. Essentially, I assist on excavations and in the study of materials after the same – mostly in the line of the small finds of many materials. I also improve the language of articles and similar of non-native English speakers for publication; and do work in the whole publication process. More recently I have become involved with teaching and guiding people in matters to do with Minoan Crete.