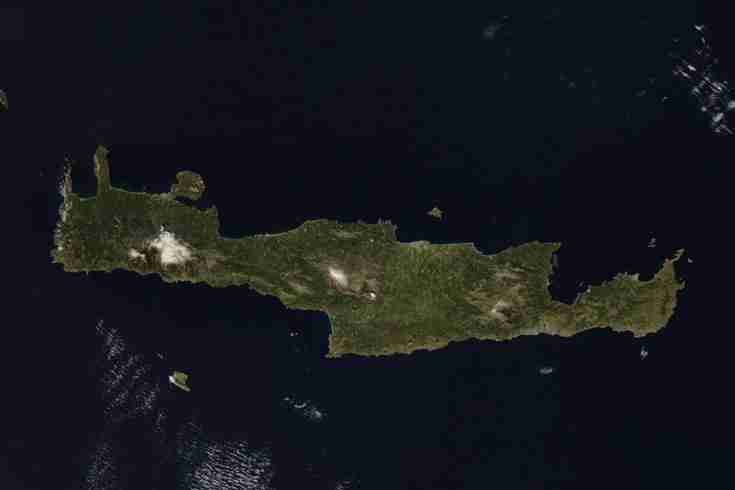 Megalonisos,The Big Island Crete in the colloquial tongue and spacious and big it is. The brooding presence of its four mountain chains cut through it dividing the island into four little countries and their capitals.
The city of Heraklion,the city of Chania, the city of Rethymno and finally the city of Agios Nikolaos. The snow tipped mountains of the winter for more than 80%of this continent is mountains. When one crosses through the lowlands it is as if Crete is a continent rather than an island. A massive land where the  sky line halters ones eyes instead of the sea. After Sicily, Sardinia, Corsica and Cyprus, Crete is the largest island of the Mediterranean. The Greeks often remark that Megalonisos the big island Crete is the most Greek island. A rugged spacious island with sudden changes in landscape this enigmatic island was the birthplace of Zeus, Radamathis, Sarpidon, Minos, Ariadne and of  the famous Minotaur. It still must be lurking somewhere underground today just like the Loch Ness Monster not yet captured on camera. Yes Crete is a strange place full of myths, heroes, legends, settlements, ravines that lie baking in the midday sun.
These mountains, rocks, gnarled olive trees, remote beaches, ribbon villages even the people  everything reflects the history of the Mediterranean sea and its peoples though out time! For the Cretans witnessed the King Minos rising  and his collapse, Alexander the Great, The Romans, St.Paul, the Arab Moorish pirates, the rise of Venice, the slave markets of Turkey, the Nazi parachutists, even the American hippies… So the Cretans are a skeptical and shy people hardly surprising wouldn't you agree?
Crete was reunited with Mother land Greece in only 1913, when the last Ottoman soldiers left Crete was divided by the Great Powers into sectors until 1913! This large island deserves several days to appreciate not only its archaeological finds but also its beautiful landscapes, remote authentic little villages and fair beaches… Crete also has a long tradition concerning good food, the liquid gold that dresses every dish the olive oil is a pedigree the long tradition concerning wine and retsina…but also a drink made out of the grape skins tsikudia-raki its like grappa (but instead its out of dragons bones!At least that is what one feels tasting the first sip)
The Cretans due to their history that so often suffered occupation, execution, annihilating populations driving them into hiding up into the mountains depraving them from peace and safety, gave birth to a type of poetry the Madinada! These poems that sing of country virtue in an unexpected sensitivity speak of Levedia (Vertue) Levedisa (areti)for women. But this bony land with its uncompromising mountain slops, coves curious people is place that someone can easily call home!
See Crete like a Cretan like a friend, as if returning home after a long time.